The ICAA – LA Chapter Leadership consists of nine board members. There are four executive members. The Chapter also has six committees that govern programs, education, communications, sponsorships, membership and awards. If you would like to become more involved in ICAA-LA, please visit the contact tab at the top of our webpage to fill out our committee interest form. 
Kevin Harris, FAIA
President
Kevin Harris, FAIA, is a nationally recognized expert and international speaker on single-family residential and renovation design. He is the owner of Kevin Harris Architect, LLC in Baton Rouge, LA. He has received more than a dozen design awards and has been published in over 50 books and publications. In his free time, Harris serves on several industry boards and task forces, and is a frequent lecturer at industry and association events. Harris holds degrees from LSU's School of Architecture, and Harvard University's Graduate School of Design. He taught for 10 years at LSU before pursuing a full-time practice and currently serves on Harvard's GSD Alumni Council. He holds an NCARB certificate, is licensed to practice architecture, and has designed Forever Homes in four states. In 2009, Harris was elevated to Fellowship in the American Institute of Architects for notable contribution to the advancement of the profession of architecture. Harris' first book was published in July 2015, "The Forever Home", an Amazon #1 Best Seller, provides the foundation to confidently explore what you want, plan your dream home, and find the right professional to make it a reality.
Chris Elberson
Vice President
Chris Elberson is a native of Lafayette, Louisiana and received his Bachelor of Architecture from LSU in 1994. Born and raised in the field of design, he follows a family passion for art and the development of the built environment. In over 24 years of professional practice, Elberson has led the design of complex projects in a wide range of building types. As Director of Design for Somdal Associates, he oversees the design of all projects from concept to construction documents, working closely with a team of designers to ensure the consistent quality level that drives his practice. His engaging design process concentrates on first developing a detailed design program for clients including building image and brand goals, program compliance and ultimately physical design drivers. With a range of experience on many different types of projects, he specializes in healthcare design. Elberson works with regional healthcare providers in Louisiana, Texas and Arkansas. Elberson is a Past-President of AIA Louisiana and AIA Shreveport and serves as an active professional mentor within the region. He is also passionate about community leadership, serving on several non-profit community boards.
Laura Thomas Saucier
Secretary
Biography coming soon.
Henry Bein
Treasurer
Henry Bein is a registered architect and an ICAA Certificate holder working as an associate at Kevin Harris, Architect, LLC in Baton Rouge. Henry grew up in San Clemente, California, a town famous for its relaxed Spanish Colonial Revival style of Architecture. After visiting Louisiana as a child, he became enthralled with both its playful and rustic vernacular buildings and eventually enrolled in Louisiana State University where he earned his Bachelor's degree in Architecture with a minor in Architectural History. Henry's work at Kevin Harris, Architect, LLC explores contemporary architectural design in the formal Classical language as well as vernacular expressions. He recently received scholarships for the ICAA Edinburgh Drawing Tour and the Intensive in Classical Architecture and currently serves as the Treasurer and the Chairman of Education for the Louisiana Chapter.
Edward Cazayoux, FAIA
Board Member
Edward (Eddie) Jon Cazayoux, FAIA is an architect whose firm, EnvironMental Design, practices sustainable architecture and historic preservation. He is a member of the U.S. Green Building Council and American Solar Energy Society. He has received awards for his work from the U.S. Dept. of Energy, U.S. Dept. of the Interior, U.S. Green Building Council, American Institute of Architects (AIA) Louisiana, and the State of Louisiana-Energy Division. Cazayoux is a retired professor from the School of Architecture & Design at the University of Louisiana at Lafayette (ULL). He taught for 17 years and was the Director for 13 years, a total of 30 years. He was awarded Distinguished Professor by ULL and held the Regents Professorship in Architecture. He was elevated to Fellowship in the AIA, awarded Professor Emeritus by ULL, and received the ULL College of the Arts Lifetime Achievement Award. He has a Masters of Architecture and a Masters of City Planning from Georgia Tech. He received his undergraduate degree in Architecture from the University of Southwestern Louisiana (now known as the University of Louisiana at Lafayette). He has written three books on sustainable design and historic preservation. He has received many grants for his research and work in sustainable design, construction and historic preservation. He has presented papers on sustainable design, French colonial architecture and settlements throughout the world.
Brian Frazier
Board Member
Brian Frazier is a federal prosecutor dedicated to historic preservation. Since 2000, Brian has served as an Assistant U.S. Attorney, first in the Southern District of Florida and then in the Middle District of Louisiana. He has prosecuted violent crime, financial crime, narcotics trafficking, public corruption, terrorism, and espionage, and in 2007, secured the landmark conviction of Jose Padilla, the U.S. citizen and designated enemy combatant who trained with al-Qaeda in Afghanistan. For this case, Brian's team won the Attorney General's Award for Exceptional Service, the U.S. Justice Department's highest honor. From 2008 to 2011, Brian served as the Justice Department attaché to the United Arab Emirates and the Gulf Region, where he worked in eight Middle Eastern countries on national security issues. In 2013, Brian was appointed Chief of the National Security Section in the Southern District of Florida. Brian came to the Middle District of Louisiana in 2018 and was named Chief of the Criminal Division in 2020. Prior to working at the Justice Department, Brian started his career at Neal & Harwell, a litigation boutique in his hometown of Nashville, TN. Brian graduated from Dartmouth College, the University of Cambridge, and Yale Law School, and clerked for Judge Patrick E. Higginbotham of the U.S. Court of Appeals for the Fifth Circuit. Brian owns a late classical house, circa 1840, collects American classical furniture and Southern silver and fine art, and has served on the Board of Directors of the Belmont Mansion in Nashville.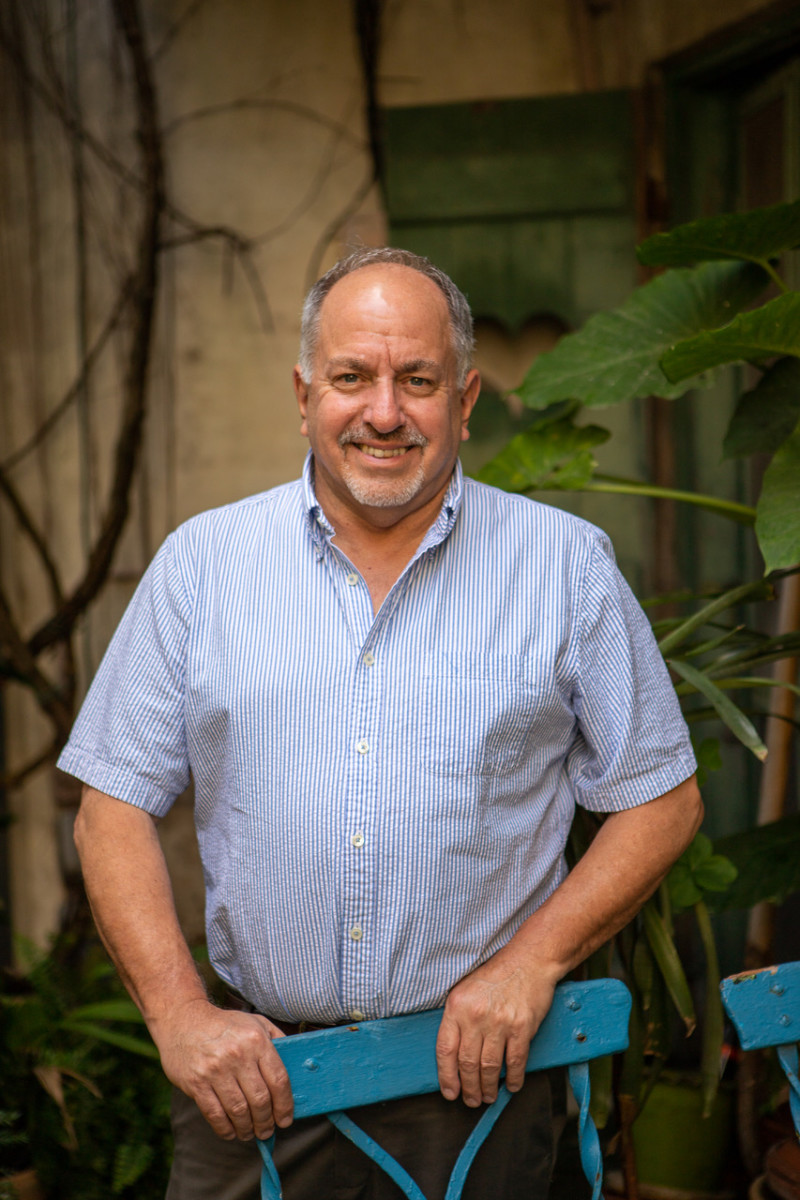 Peter W. Patout
Board Member
Peter Patout is a historic property realtor connecting buyers and sellers who value preserving architectural treasures in Louisiana and Mississippi. Patout's passion for preservation, architecture, history, decorative and fine arts permeates his life along with his commitment to supporting related cultural organizations. In addition to being a founding member of the ICAA Louisiana Chapter, Patout actively supports the Louisiana Museum Foundation. He is also a member of the following organizations: Friends of the Cabildo, Historic New Orleans Collection, Louisiana Landmarks Society, Louisiana Trust for Historic Preservation, Preservation Resource Center, Save our Cemeteries, and the Vieux Carré Property Owners, Residents and Associates.
Nicholas Dubuc
Board Member
Nicholas was born and raised in New Orleans, Louisiana, surrounded by great architecture, food, and music. He attended Louisiana State University, and earned a Bachelors of Architecture in May 2020. At LSU, he participated in many academic, fraternal, and religious organizations. Nick's final undergraduate year, he served as the Vice-President of Students for Historic Preservation, where he facilitated numerous workshops and lectures by ICAA Louisiana Chapter. After graduation, he accepted a full-time position as Intern Architect at Kevin Harris Architect, LLC in September 2020. Nick is currently studying for the Architecture Board Examinations to become a licensed architect in the state of Louisiana. He is a current member of the ICAA Louisiana Chapter, and serves on the Membership and Program Committee Boards. He recently completed the requirements for the ICAA Certificate in Classical Architecture. he aspires to educate himself, clients, and the broader public in the merits of classical design in improving our neighborhoods, institutions, and government through an appreciation of beauty in our built environment. His goal is to usher in the next generation of classical design, continuing Louisiana's rich legacy of the classical architecture.
Andrea Thigpen
Board Member
Andrea's love of classical architecture began early in her life. Growing up in West Baton Rouge, some of her most vivid childhood memories are of long, leisurely Sunday afternoon drives with her family along River Road. She was mesmerized by the historic plantation houses still left dotted up and down the Mississippi River banks. Later studying architecture at Louisiana State University, Andrea had the opportunity to explore her interest further, minoring in Architecture History and spending a semester in Rome, Italy studying classical masterpieces. After earning her Bachelor of Architecture, Andrea relocated to New Orleans, Louisiana, where she currently resides. Andrea focusses on custom residential design, working primarily on beach houses in the Florida Panhandle region. Her work is strongly influenced by the historic homes she has grown up admiring. Andrea is excited to be chairing the planning committee for our inaugural A. Hays Town Awards. When she is not designing or planning for the A. Hays Town awards Andrea enjoys crafting Mardi Gras costumes, walking her dog around The Garden District, and sampling the vast variety of cuisines New Orleans has to offer.
Kelly Calhoun
Board Member
Kelly has been a member of the historic preservation industry in New Orleans since 2015 and quickly gained experience working within the state and federal regulations pertaining to the National Register of Historic Places and Historic Tax Credits. She is also a licensed realtor with Talbot Historic Properties. Architecture surveys have become a specialty for Kelly. From 2016 to 2019, Kelly led the surveys for three large-scale historic areas: Hammond (over 1,200 buildings), Lake Charles (over 450 buildings), and Lake Vista (about 1,000 buildings), New Orleans, Louisiana. All over the Gulf Coast, each area offered a distinct contribution to the history of Louisiana and its architectural legacy. Ultimately, serving as the consultant for these projects, Kelly developed an understanding of the distinct requirements of the National Park Service (NPS) and State Historic Preservation Office (SHPO). Working to conduct architecture surveys includes the understanding of the Louisiana Historic Resources Inventory (LHRI) form and digital spreadsheet; picture requirements; data organization and constant relationships with the state and federal officials. Kelly has extensive experience conducting research on historic buildings. She serves as a lead architectural historian for the Garden District Association, a National Register of Historic Places district. Having written dozens of historic building reports, she has valuable knowledge of the process of conducting research at this level and translating information from digital, paper, and interview forms. Primary sources include notarial archives, conveyance records, real estate and records documents, newspaper searches, microfilm analyses, historic mapping, digital archives, and more. Being licensed in historic real estate, Kelly brings to her clients an understanding of the fair market value of real estate trends and how its effects historic properties. Beyond her considerable experience working on NRHP surveys, nominations, expansions, and historic research, Kelly's multidisciplinary experience in non-profit, educational, and advocacy programs helped secure her as a trusted resource in her field.
Michael Rouchell (in memoriam)
Founding Member
Michael Rouchel was a native of New Orleans and received his BARCH from Tulane's School of Architecture in 1989 and MARCH in 2004. While attending architecture school in New Orleans, Rouchell would often spend time in the architecture library between classes browsing through books and periodicals on historic architecture, as well as commute daily using the Saint Charles Avenue Streetcar. By fifth year thesis, the love for traditional architecture was well established despite the school's modernist persuasion. Rouchell's thesis project was to take on a competition that occured a few years past that called for the expansion of the New Orleans Museum of Art, except that Rouchell's design was for a classical design that grew organically from the original building's Greek classicism. After graduation, Rouchell worked for Eean McNaughton Architects (1989 -1991) and Kessels Diboll Kessels (1992) before working with John C. Williams (originally Arthur Q. Davis and John C. Williams) for the past 27 years. Rouchell was a registered architect in the State of Louisiana since 1994 and in the State of Alabama since 2006. During a conversation with other traditional architects, Rouchell once suggested that Louisiana and New Orleans needed its own ICAA Chapter. The suggestion was tossed back, "Well, Why don't you start one?" In late 2015,a petition letter to the Board of Directors of the ICAA was sent, and approval for a Louisiana ICAA Chapter was granted in early 2016. Besides founding the Louisiana ICAA Chapter, Rouchell served on the board as Vice President and was involved in several of the committees, including: the Awards Committee, the Education Committee and the Communications Committee.
ICAA-LA Chapter Committees
Communications Committee
Kevin Harris 
Laura Thomas Saucier
Awards Committee -awards@icaala.org
Andrea Thigpen
Kevin Harris 
Edward Cazayoux
Brian Frazier
Sandra Stokes 
Sponsorship Committee – sponsorship@classicist-la.org
Chris Elberson 
Kevin Harris 
*The italicized names are Committee Chairs*