The Louisiana Chapter of the ICAA is pleased to announce a call for entries for our inaugural A. Hays Town Awards. The A. Hays Town Awards seek to promote and award excellence in design and execution of classical and vernacular architecture in Louisiana. In honor of architect, A. Hays Town's legacy of rigorous study and perpetuation of Louisiana's architectural heritage, these awards are granted to designers and craftsman who demonstrate exceptional literacy in the language of classical architecture and the building traditions of Louisiana. 
Eligible projects must have been designed or crafted by individual ICAA members or member firms in good standing and based in Louisiana. ICAA members outside of Louisiana are eligible to apply on the condition that their submitted project be located within the state. All projects must have been completed between January 1, 2013 and the time of submittal. 
*see call for entries above for full rules and eligibility requirements
landscape | garden design
design student | emerging classicist
*see call for entries above for full category descriptions and subcategories
*see call for entries above for full submission requirements and deliverables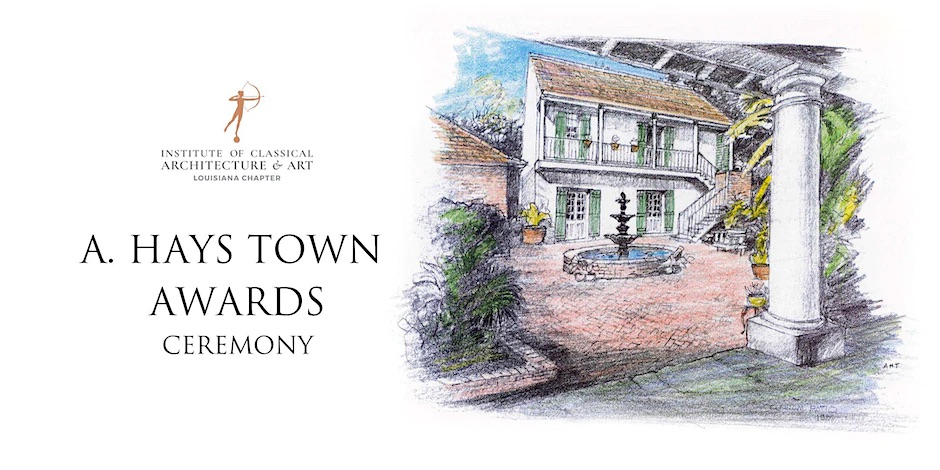 Winners will be recognized at an awards ceremony on June 17, 2023 at Latrobe's on Royal, 403 Royal Street, New Orleans, LA 70130. ICAA members and non-members are invited to attend the ceremony and preceding cocktail reception.